The Brenham | Washington County area is fast becoming a favorite location for entrepreneurs and small business investors looking to get out of the crowded and expensive metro areas and find a place where they can establish their business in a supportive community. Downtown Brenham has historically supported entrepreneurial endeavors and is one of the key areas of town to feature a number of fresh and original restaurants, coffee shops, and boutique style shops. However, Brenham is also a hub for tech and manufacturing start-ups. The benefit of lower overhead and access to support from our education partners for workforce and research makes Washington County highly attractive for entrepreneurs.
Brenham |Washington County EDO provides a number of resources and support for small business. Our office helps businesses with the development process and finding the right space for your project. Contact us if you have questions or need assistance. The City of Brenham website offers answers and documents relative to the many questions you may have regarding permits, site plans, and applicable ordinances.
10 Steps To Starting Your Business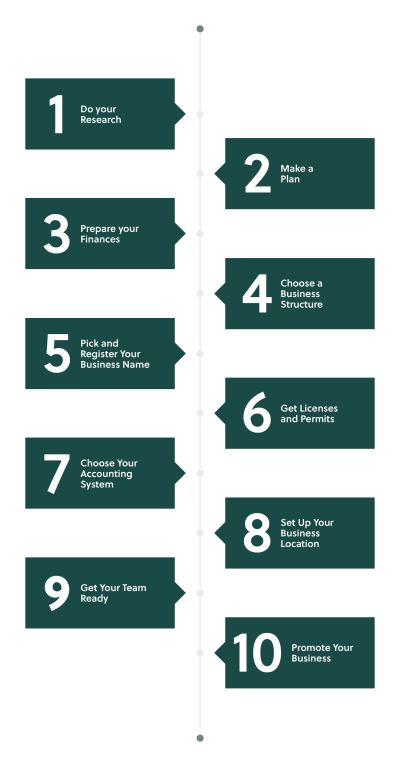 Small Business Development Resources
U.S. Small Business Administration
Helpful for: Funding resources, planning, counseling, online guides, FAQs, etc.
Visit SBA.Gov
Small Business Development Center at Blinn College
Helpful for: Business plan development, financial advising, marketing support, etc.
Visit SBDC Site